Post #30 – where the art of communication is appreciated
This is the final post for #blogjune and I have mixed feelings about the 'project' after writing a post every day for the month. Sometimes I've struggled to find something to write about and found the discipline to write everyday difficult at times, but overall I've enjoyed the experience. It's given me an opportunity to think, test ideas, and express myself on topics related to my work. I've been able to grow my network (PLN) through the list of participating bloggers that was made available by Constance (@flexnib) and it was good to 'meet' people of like mind. It was also nice to get some feedback on what I'd written and appreciated the exchange of ideas. It is important to get feedback as it can confirm your ideas as well as provide you with other points of view. Being able to read and comment on other people's blogs was also fun and a way to begin a conversation. 
I probably won't be able to keep up the daily blog posts, but I do feel motivated enough to maintain some regularity in putting my ideas out there. Blogging provides an online avenue for conversation and can facilitate a deeper discussion that tools like twitter can't. Blogging also enables a wider discussion than you might normally be able to have, as the reach of the interwebs is international. Depending on your networks and reach, your blogging can be a way of sharing ideas and getting some validation of your thinking. The two-way (or more) dialogue is a great way to further ideas and confirm their usefulness. You might want to consider participating in #blogjune next year… I'll give it another go in 2015, and in the meantime share what I'm thinking here – make sure you visit regularly…

Do you find it useful to exchange ideas and talk with others? Are you able to make/find the time to have conversations?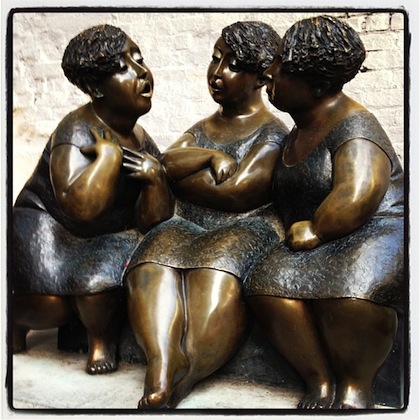 Conversation – statue seen in Montreal
Word of the Day is: 'rident' – a great way to start the week