Post #28 – where questions of taste and flavour are considered
The tongue is an amazing thing – giving us the capacity to taste a wide range of flavours, from sweet to sour and hot to cold. Herbs and spices are able to change the way we appreciate food and we see that different cultures use these additives in different ways. I've been fortunate to have been able to try a number of different cuisines and like how spices can change the way dishes taste. I guess a lot depends on other ingredients too, the type of vegetables, what sort of carbohydrate, and the type of meat. It's all part of the cook's skill to determine the mix and the correct proportions of ingredients to make for a delicious meal.
So, I got to thinking how we might spice up our our education – what flavours do we add to learning experiences? Do we purposefully think about how we can make learning palatable? How can we make learning tasty, with a hint of spice (and daring) rather than being bland and boring? Do we actively encourage our students to try new dishes to expand their range of taste and appreciation? I guess the ways we present the curriculum can help, making it something different and even exotic can engage students. We should also be active in looking for new ways of cooking up a lesson, reading cookbooks and listening to and watching experts. The flavours and spices could be new types of resources, new assessment, new external activities, and even foreign approaches. It's always good to ask your students to come along on the discovery of new tastes with you-who knows what you might discover. 
What sort of education cook/chef are you? What special ingredients do you use in your pedagogy? Any secret recipes you'd like to share?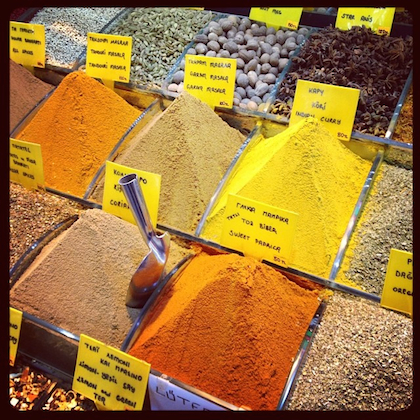 Spices in the Grand Bazaar, Istanbul…
Word of the Day is: 'clement' – not inclement I guess…
Tags: blogjune