We've now implemented Desire2Learn (D2L) as our LMS at Deakin University, and have been delivering all our units (courses) in the system since Trimester 3, 2011. There was an investment in developing a professional development program for academic staff to assist in the transition to the new system that had a focus on learning about D2L and the migration of course material. Attention was also paid to learning design and how the D2L tool set and functions might be used to best support the curriculum.  I also thought that a Desire2Learn Tool Guide for Teachers (like the Moodle Tool Guide developed by Joyce Seitzinger in 2010) would be useful in helping academic staff decide which tool to use for a particular learning activity and to consider what level of thinking is used (for a tool & activity) according to the revised Bloom's taxonomy. 
I started work on this guide in 2011, and when Joyce stared working at Deakin Uni during the year, I was happy to work together with her to finish this version. We've chosen the most used D2L tools and mapped them in a matrix to give advice about how useful they are for specific learning activities and using colours indicated how well they fit to that task. We presented the new Desire2Learn Tool Guide for Teachers at the recent inaugural Desire2Learn Asia-Pac Teaching and Learning conference and hope that people find it useful. You can download an A3 Poster version (pdf) below.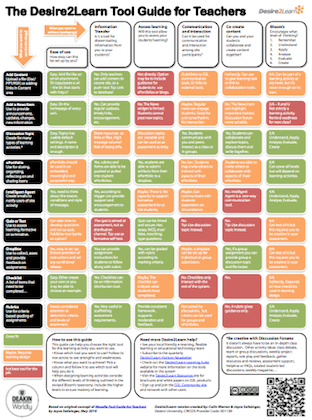 Desire2Learn Tool Guide for Teachers Sep2012
We have also created a Deakin version of the Desire2Learn Tool Guide that contains references to the Deakin Graduate Learning Outcomes and 12 Aspects of Cloud Learning that we see as important in supporting 21st Century Learning and developing work-ready graduates. We have released under a creative commons license that is non-commercial, share alike with attribution. It is intended that this might become part of the suite of professional development tools available to support online learning and teaching using Desire2Learn. Looking forward to your feedback. 
PS. Joyce's original guide has been translated into over a dozen languages and has also been adapted for a different LMS – see the BlackBoard Tool Guide for Tutors & the BlackBoard 9.1 Tool Guide. 
Tags: D2L, Desire2Learn, LMS, Teachers, Tool Guide