I've been fortunate to be able to attend the Desire2Learn (D2L) annual conference FUSION 2011 in Denver, Colorado this week and have enjoyed a great atmosphere, met lots of people, and learned more about D2L and how it can support teaching. I've still got two days of workshops to attend and look forward to some more in-depth best practice sessions on how D2L can support authentic teaching practice through assessment, analytics, learning design and ePortfolio.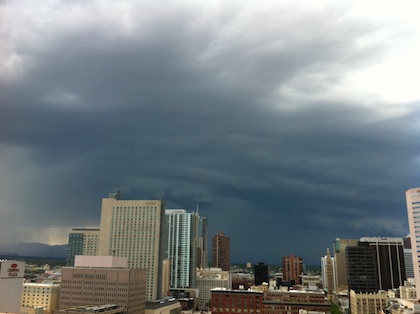 There's been spectacular thunderstorms each evening this week and the thunder & lighting generally announce a good downpour. The days have been warm but I haven't been outside all that much as the conference has kept us busy from 8-4:30. There have been lots of sessions to choose from, including hands-on workshops to help people learn more about particular tools. Plenty of D2L staff have been available to discuss issues and I liked the triage desk (with staff dressed in white coats & stethoscopes) where you could go and chat about feature requests or other things that are of concern/need fixing. Nice.
I usually find conferences are a good litmus test of how we are travelling with regard to our practice and use of technology for learning and teaching. It's been good here at D2L, to be confirmed in a way that indicates that we 'up there' with regard to best practice and robust implementation. Great to talk to other educators though, and hear about alternative ways of doing things and I'll be reviewing all this as I debrief after the conference.
Tags: conference, Denver, Desire2Learn